Quality Assurance System
System Registration
Tulsa Heaters, Inc. is a certified ISO 9001:2015 company.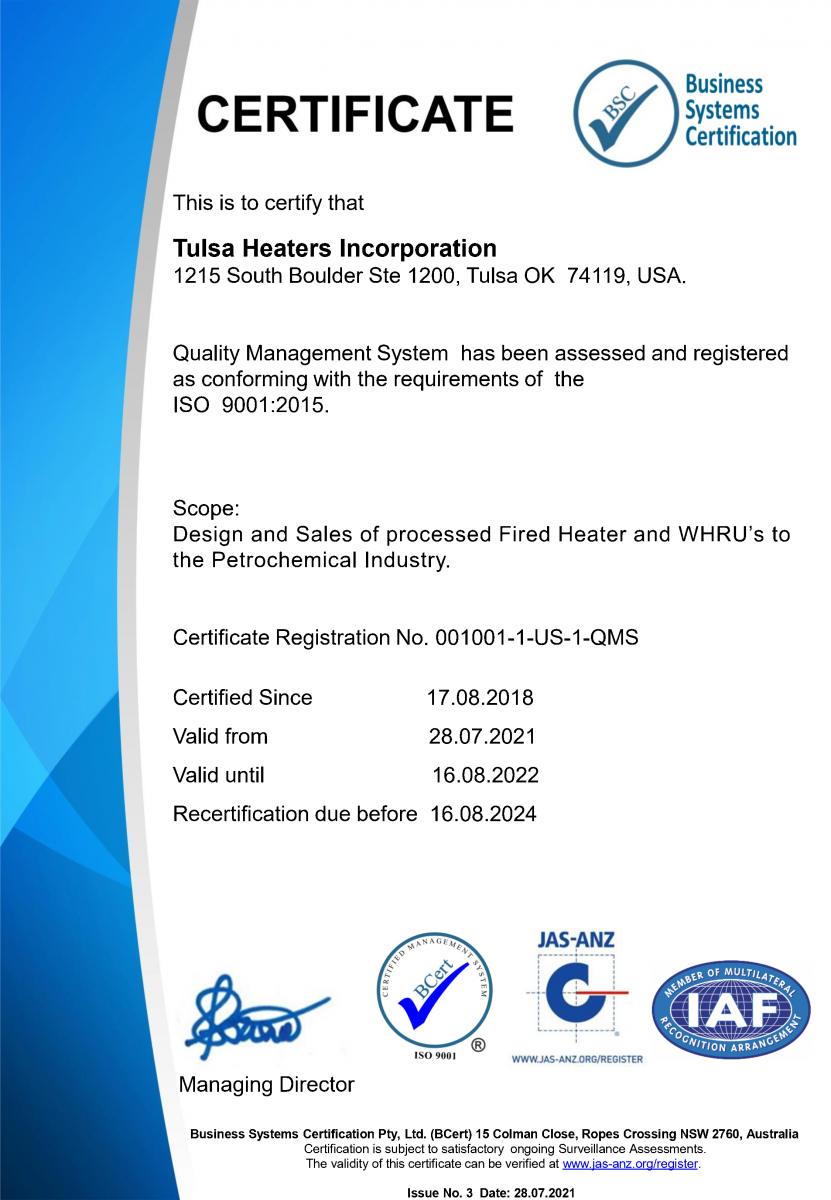 Policy
Since incorporation, Tulsa Heaters, Inc. has strived to provide the highest degree of quality. Everyone at THI is responsible for the quality and we all strive to be the industry preferred source for fired heaters and waste heat recovery units through a total commitment to quality and customer service.
THI's Quality Assurance Policy demands that we:
Maintain and continually upgrade methods used to provide products that meet or exceed the client's needs.
Maintain continual contact with the client, reinforcing confidence in our ability to provide quality service during all phases of the project (i.e. engineering, procurement, fabrication, and shipment).
Maintain a reporting system within the company to provide confidence to Tulsa Heaters' management that the intended quality is achieved.
Maintain a System to verify that our sub-vendors provide a product or service that meets or exceeds our clients' technical specifications at the quality level required.
Practices
Our fabricators and other sub-vendors are constantly monitored to ensure that they remain in compliance with our Quality Assurance manual. Our fabricators also have their own dedicated Quality Assurance standards. Additionally, THI utilizes the services of multiple third-party NDE companies. ASNT Level II and Level III Technicians perform positive material identification, magnetic particle, thickness verification, and ultrasonic testing. Our third party NDE suppliers also provide ASNT Level III consultants certified in all of the non-destructive examinations listed above. When destructive testing is required, THI utilizes the capabilities of various respected laboratories.

THI's staff includes full-time Quality Inspectors. Our Quality Inspectors sole job description is ensuring the quality of our products, and as a minimum, are certified ASNT Level II, Magnetic Particle Level II, and Liquid Penetrant Level II.

Our Engineering Manager has over well over a decade of experience as THI's Quality Assurance Manager. Our Production Manager has over ten years of experience as Quality Control Inspectors.